Online Russian course – lessons by Skype
Do you want to learn Russian language with native speaker teacher but you have no opportunity to visit Russia right now? Do you appreciate your time and want to have classes straight from your home or office? Do you want to continue your Russian classes after studying Russian in Russia? Are you searching the options how to learn Russian fast?
You can learn Russian online with our professional Russian teachers any time and any place with our School!
Why to choose online Russian language course?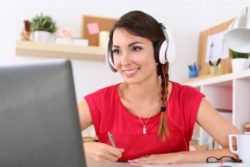 1. Online lessons of Russian language will save your time. You need only internet access for starting the lessons by Skype or Zoom where ever you want.
2. You can start your individual online Russian language course any day you want. You do not need to wait the group of your level started.
3. All lessons are provided by Russian native teachers that makes your study more effective. More than 50% of classes are focused on speaking and interacting.
4. The lessons of Russian language by Skype are available for everyone from any country. You are not limited by Russian visa, vacation and can order any amount of classes.
5. Virtual Russian lessons will save your money. The more classes you buy the less you pay.  You don't have registration fee.
Here we summarize some advises that can help you not to get lost in a big variety of internet resources and get fast results in learning Russian on-line. 
Why Russian on-line course with "LC "MAGELLAN"?
1. Our Russian language teachers are highly qualified and have extensive experience, so your online classes will be full of speaking, interacting as well as grammar review and writing.
2. We provide individual approach: the teacher creates the on-line program according to your aims and wishes, you choose the frequency and duration of the lessons according to your timetable and start any day you want. You can always have everyday russian language in our school!
3. You will get online certificate after graduating the course.
4. You may have a free trial lesson of 20 min to make your choice. The teacher will assess your knowledge, learn your goals to prepare individual online program. On the other hand, you will get to know your teacher.
5. We offer different forms of on-line lessons: individual one-to-one lessons, classes in self- organised group, Weekend Russian speaking classes. 
6. We provide flexible discount system that allows you to save your money:
Price for 1 individual online lesson:
45 min – 13 euro
60 min – 16 euro
90 min – 26 euro
10 lessons – 5% discount
20 lessons – 10% discount
30 lessons – 15% discount
Bonus: free Weekend Russian speaking classes for our current students
---
Special offer for self -organized on-line groups
The offer available till 31.12.2020

Special prices for online group lessons  (45 minutes) :

– for groups of 2 person – 18 euro*

– for groups of 3-4 person – 24 euro*

– for groups of from 5 -6 person –  30 euro*

Special prices for online group lessons  (60 minutes) :

– for groups of 2 person – 26 euro*

– for groups of 3-4 person – 36 euro*

– for groups of from 5 -6 person –  45 euro*

*price is given per group