Accommodation
Our school offers different types of accommodation in Yekaterinburg. You can choose any of them according to your preferences. 
1)  RUSSIAN HOST FAMILY – Most communicative and hospitable!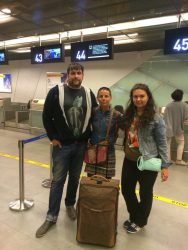 This type of accommodation is the best for practicing Russian outside the classroom and for learning real Russian life unknown for tourists. You will discover Russian traditions, way of living, our hospitality, taste Russian cuisine, take part in cultural activities.
Our families are carefully selected: location (close to the school or easily accessible by public transport), living  conditions, knowledge of foreign languages, open-minding and welcoming.
In order you feel comfortable during your stay in Russia we choose the family according your personal wishes: character (talkative and active, sport family or more quiet), knowledge of foreign languages (English, French, German, Chinese, etc or only Russian), food preferences (allergies, diet, etc.), attitude to pets, babies, etc.
There three options of Russian host family:
Type
Price per week, euro
Extra day, euro
Meal
Services included
VIP
350
50

breakfast&dinner (Monday-Friday), full board (Weekend)

internet access, one entertainment per week, registering your place of stay

Standart
280
40

breakfast

(Monday-Friday)

,

breakfast&dinner (Weekend)

internet access, one entertainment per week, registering your place of stay

Econom
210
30

breakfast

(Monday-Sunday)

internet access, registering your place of stay
2) HOTEL
We offer this type of accommodation for those who prefers to live with comfort and full range of service in the centre of the city next to main landmarks. We can recommend you pretty hotels of 3* and 4*.
 3) PRIVATE STUDIO – Most independent!
If you want to live separately we may help you to rent apartment with private kitchen, bathroom, living room and bedroom(s). You can share apartment with other students. 
 4) HOSTEL – The cheapest one!
This option is suitable for young people who comes for short period of time. We may offer you cosy hostels in the centre of Yekaterinburg. You can get all parts of the city (landmarks, clubs, museums, theatres, etc) very fast! Price on average is 15 euro per day.
FEEDBACK of our students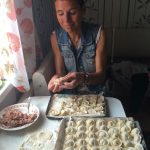 Beatriz Calahorra Vidarte: "Сейчас у меня есть семья в России. У них я чувствовала себя как дома. Дружная семья. Они общительные, гостеприимные, щедрые. Я очень хорошо провела время с ними… У меня нет слов. Я рада, что с ними познакомилась. Никогда их не забуду!
Filiep Vanhee: Masha and Sergey welcomed me in their home and quickly made me feel like part of the family. We talked a lot about the Russian way of life, Russian food, etc. They helped a lot by showing me how to take the bus, what to wear, etc. For me as a beginner in Russian, the fact that Masha speaks English helped a lot in communication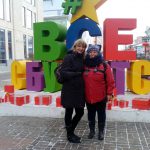 Mirela Deleersnyder: I enjoyed very much my stay at Tatiana and Vladimir. From the first moment they were very kind and helpful. They gave me the opportunity to taste the rich Russian kitchen and self-made dishes. I had always a perfect breakfast. They were patient with me helping to make the conversation in Russian. I enjoyed the tea and honey, long conversations, warmth and the cheerful atmosphere in their house.
Christine Claus: " My family was very kind. I had a good bed and everything that I needed. The food was good and the house was clean. They helped me , and the daughter Diana taught me. The dog was well educated and I was not afraid of it. The way from house from school was also very easy to do with tram."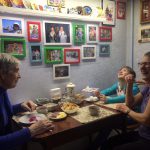 Martine de Winter: Такой милый и теплый дом! Она для меня настоящая мама! Я так рада!
Martin Maurits De Blieck: Very interesting!! She took very good care! Food was OK. Enough comfort, good accommodation! In one word: fantastic!!!
Glenn Maes: Aygul and Andrey are very kind people, who help me a lot. Everything OK.
Eddy Aleric Ryelandt: Очень хорошо.